WATCH LIVE ON CAMP'S FACEBOOK - SATURDAY, JUNE 10th!
A Home Run for the "Funnest Fun!"
At first light on Saturday, June 11th, ten friends will gather at Legends Field at Camp Lebanon. Their goal will be to swing, swing, and keep swinging until their two official stats guys record wiffle ball home run #5000!  Depending on the wind, they're guessing it could take 14-20 hours and a couple thousand swings a piece to accomplish the fete. Why the effort? Sometimes crazy people do crazy things to advance a cause they're crazy about. Camp Lebanon has a real opportunity to elevate ministry impact to the next level and these "all-stars" want to raise $30,000 to help make it happen! We're calling it the Wiffleball 5K – A Home Run for the "Funnest Fun!" With your donation, you'll be standing in the batter's box with them. So swing hard!
1) SNOW TUBING HILL UPGRADES | $10,000
Project #1: Upgrade the snow tubing hill! This money would give Camp the ability to reshape and extend the hill, while adding lights (night tubing!), a rope tow (more fun for everyone), and a snow machine. Not only would this elevate the experience for Camp's overnight guests, but it would unlock the ability for more local ministry outreach.
2) NEW DOCK & BEAVER POINT BOARDWALK | $20,000
One of Camp's "F" shaped docks needs replacement. Docks aren't cheap, so this will be a big support for Camp. Not only will the new dock be a better experience for kids and guests of all ages, but the old dock will be repurposed to finish the Beaver Point Boardwalk (see photo below). This will help kids experience God's Creation even more up close!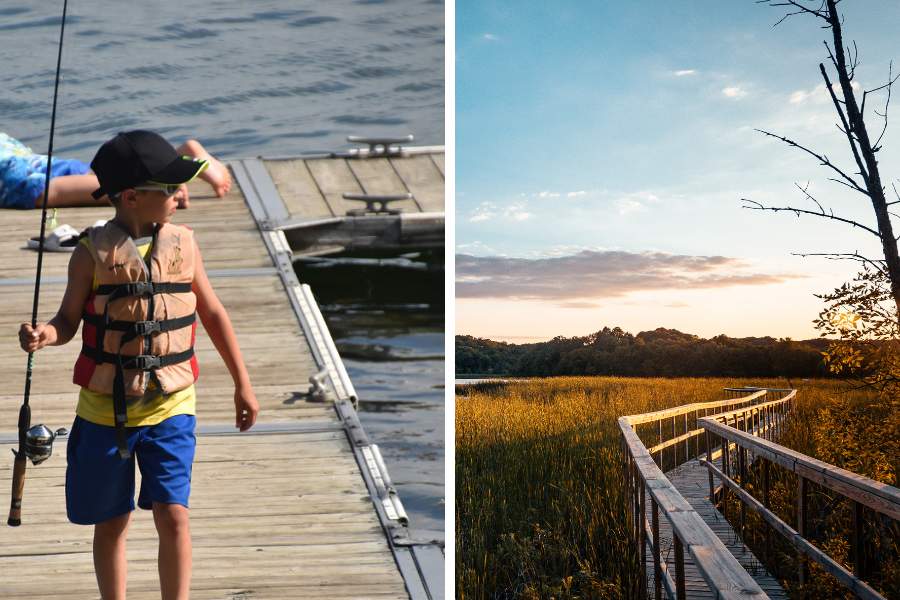 Will you step up to the plate WITH US?
We know $30,000 is a big goal…but didn't want to underestimate our HUGE GOD!  In 2020, God worked through this event to raise $17,000 so Camp could open as a Family Resort during COVID. Last year, God moved people to generously give $25,000 to purchase a big-top tent (allowed Camp to stay at near full capacity during COVID), fund camper scholarships, and raise the first third of the money needed for the snow tubing hill upgrades. It's been amazing to watch Him work! This year, we are upping the challenge (5,000 home runs is a lot!!) and raising the goal ($30,000 is a lot, $6/homer!).  It's going to take a big effort, not just from the wiffle ball guys but from hundreds of friends who are willing to support the cause. Will you join the team and step up to the plate with us?!  Thank you so much! – Monte & Team!