A YEAR-END OPPORTUNITY TO ADVANCE Your CAMP'S MINISTRY.
Wow! What an amazing year! Thanks to friends like you, Camp was full, fun, financially supported, and faithfully covered in prayer. As the Christmas season nears, we find ourselves counting blessings, overawed like Abraham when asked by God to look up and count the stars.
The biggest blessing was seeing hundreds of kids in desperate need of hope say "YES!" to Christ. More and more youth are unchurched and most continue to face post-COVID challenges like isolation, anxiety, and mental stress. One life transformed by the Gospel was a fourth grader from our local kids club in Upsala. On the last night of Super Kids 1, he stood with forty other kids at the campfire to announce his decision to follow Jesus. Heading back to his cabin's spot on the hill, the born-again youngster turned and beamed, "Now I know what it means to have two birthdays!"
Looking back over a busy 2022, here's the "Short List" of blessings. 1827 summer youth campers. Nine fun family and parent-child events. Extension of Beaver Point Boardwalk. $24,000 in gym support raised in the Kids Love Camp-A-Thon. Ninety-five-year-old Swimming Grandma's final swim for scholarships ($31K!) The sweet 75th Anniversary Celebration. An incredible fall (seniors, men, and women). 12,000 year-round guests. God is doing a great work at your camp!
The MOST URGENT CHALLENGE NOW?
The most urgent challenge now? The largest youth and adult events lack a meeting space big enough to hold them. What's more, kids of all ages don't have an adequate indoor place for the "Funnest Fun!" in inclement weather. At least, not yet!  There's another blessing! At the 75th Rally on August 27, Camp broke ground for the long-awaited multi-purpose gymnasium. Woo Hoo! A big "THANK YOU!" to Camp's leadership and early financial partners for boldly stepping out in faith. Site work began this fall and construction is set to get started in the spring!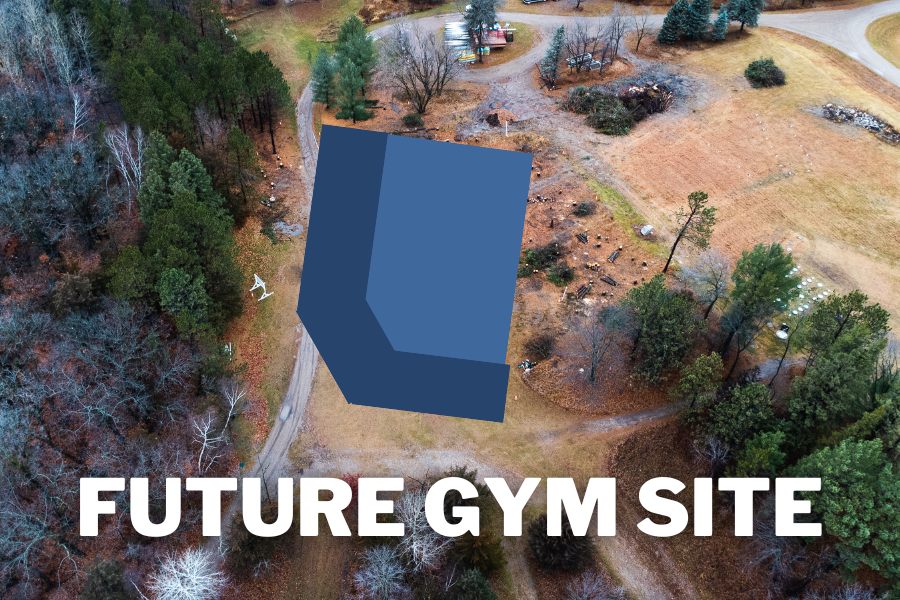 But wait! There's one more blessing to celebrate and it's GYM-SIZED! A 20% gain in ministry activity over last year allows Camp to direct year-end giving towards funding this wonderful new facility. Praise the Lord! With over 72% of the $2.5M goal already committed, a strong response from you and many others could see 2022 end with Camp well on the way to completely underwriting the remaining $700,000. What a big boost heading into 2023!
OPPORTUNITY FOR "GYM-PACT"
Your generous support will have both an immediate and long term "GYM-pact." Weather-proof rec facilities. Enlarged worship center (400+!) Enhanced friend space (coffeeshop, kitchen, fireplace!) Local connections (basketball, tubing!) Strategic new partnerships. And more importantly, all of these impacts translate into many, many lives touched for eternity!
Thanks in advance for your active partnership in this big moment! YOU are a blessing!