On November 11, 2021, Camp Lebanon said "good bye" to another special friend. It was only fitting that on Veteran's Day 2021, Lt. JG "Sunny Jim" Abeler, a WWII navy fighter pilot, completed his earthly mission and reported to his Commander-In-Chief in Heaven. At age 97, Jim passed away peacefully at his home in Coon Rapids, immersed in the love and care of family and friends.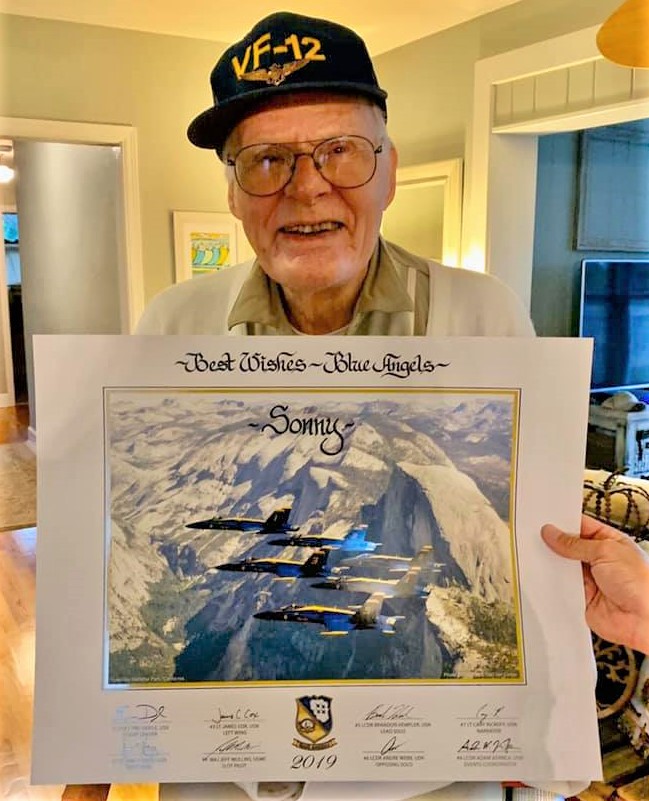 Jim's wife of 68 years, Sandy, discovered Camp Lebanon for the first time when in 1966 she volunteered to drive a station wagon full of kids from First Baptist Church in Anoka up to Camp. For fifty of the next fifty-six years, the Abelers attended Family Camp in one form or another, making Camp Lebanon their "home away from home."
Jim and Sandy's love for Camp Lebanon grew new passion in 1986, when their son, Bill, and his wife, Lisa, assumed leadership at Camp. Over the past thirty-five years no friends have worked harder or been more generous in promoting and enabling Camp's mission. Jim's fingerprints are all over the site, as he installed Camp's first underground irrigation system, rocked two fireplaces (Lodge and Scandinavia), put in two new cabin floors, and screeded tons of concrete. Sandy famously became known as "Swimming Grandma" in recognition for raising over $75,000 for scholarships in her six swims across Cedar Lake made between ages 85 and 91. It was only fitting, then, that at the 70th Celebration in 2017, Jim and Sandy were honored with fourteen others as "Camp Legends."
"It wasn't just the hours and dollars," Executive Director Bill Abeler explained. "Jim and Sandy embraced Camp's mission and believed in its future. That's why they always wanted to be first in line to support a major building project and land purchase. They simply wanted to see kids and families come to Camp so that they could hear and experience the good news about Jesus!"
The life of Dr. James J. Abeler, Sr., will be celebrated on Saturday, December 4 at First Baptist Church in Anoka. Visitation is at 1:00 PM with the service at 2:00.  All friends of Camp and the Abelers are invited to attend.
In lieu of flowers, memorials may be sent to Camp Lebanon, 1205 Acorn Rd, Burtrum, MN 56318 or given online by following the link below.