It was a huge task, but our incredible Media Team for the summer rose to the challenge and captured the smiles, joy, and laughter from Summer 2023!  All summer long, our videographer and photographers raced around Camp to capture every action-packed, joy-filled moment they could.  They put together weekly recap videos and slideshows, gathering memories for campers and parents to treasure forever.
Another huge task was to attempt to look through ALL of those photos from 9 weeks of youth camps and attempt to pull out their FAVORITES.  But we've attempted to do so.  The full album is linked at the end of this blog post.  Here, we have included some standout images that really seem to showcase just how amazing this summer was.  We hope you enjoy these photos – check all of them out on our SmugMug account!
Campers love corcling, and we love this photo! Such a sweet, candid glimpse into the fun challenge this waterfront activity can be! 
Another highlight of this summer were the brand new water toys!  We had a new trampoline out in the deep end, as well as a super fun obstacle course inflatable a little closer to shore.  The photographers and videographers had a great time capturing moments, sometimes from the beach and sometimes out on the water themselves!  
Camper group shots at their best – whether at the Octoball court or the Volleyball Tournament, campers were always ready to jump in and help our Media Team show parents what camp is really like!
Speaking of the Volleyball Tournament – for our Junior High and Senior High campers, this big event is a way to build friendships and unity as a cabin.  It's so fun to see the team spirit on display, even just in how the campers choose to create their "team uniforms" and use face paint.  
Our photographers and videographers always make sure they've got extra time (and extra space on their memory cards) to capture all of the action happening either on the North 40 field or on Main Camp during the volleyball tournament!
Another waterfront pastime – FISHING.  And it wouldn't be possible without the incredible volunteer "Fishing Grandparents" who show up every week to help campers bait their hooks, catch their fish, and measure them for the week-long fishing competition.  And sometimes these volunteers help our photographers out by capturing so many great moment with their own cameras!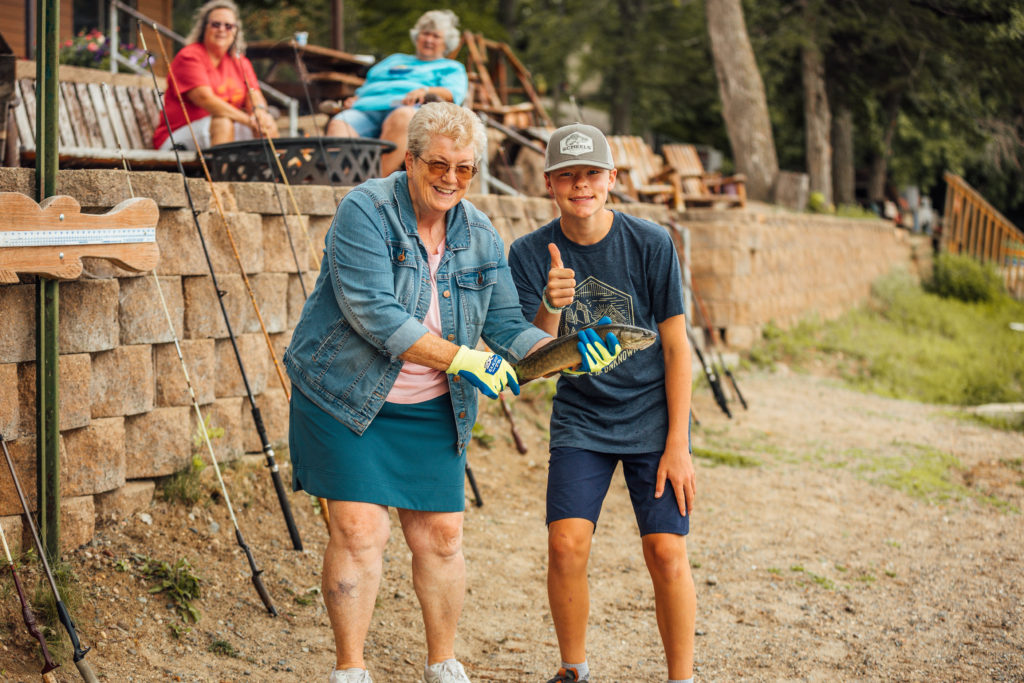 These photos do a great job of capturing another part of Camp's Funnest Fun – gathering together for flag raising, flag lowering, mail calls, and other events at the Steps of Faith!  Whether they are watching a hilarious skit, or learning actions to a memory verse, campers always make the best faces at the amphitheater, and our photographers LOVE trying to capture the laughter, smiles, and brows furrowed in concentration!  
We really love this moment from one of our field games – relays down on the Lower Field at Camp usually involve water, pool noodles, and lots of screaming.  It's a good time for campers and staff alike!
Let's talk about our incredible Staff Team for a second!  Some of our favorite photo moments involve all of the fun our staff get to have hanging out with campers during the summer.  Goofy faces, big laughs, and so many incredible memories.  Our staff LOVE getting to spend time with campers every week!  Every staff member get the chance to spend time with campers, whether it's as a Cabin Friend, helping lead a game or activity, or running a Skill, Clinic, or Seminar!  And one of the Media Team's favorite things at the end of every week was getting to show campers a record of all of their great memories, captured in a slideshow and video show at the Closing Rally.  It's such a fun part of the job!
Here we are, at the end of our blog post, and it's such a difficult task to pick the last 3 stand-out photos from the summer!  Our photographers did such an amazing job.  
The pure joy on this campers face as she rides down the Screamin' Eagle Zipline is one of our favs!  And this moment of beach fun with an Adventurers camper is making us miss summer!   We can't wait for warm sunshine, wet sand, and the sounds of lapping waves in the swimming area – Summer 2024, we're already getting so excited for you!
Thought we would finish up the post by highlighting a lovely little moment from early in the summer, when Cedar Lake's loon family (can you spot the baby loons??) came for a quick swim in our swimming area!  The opportunity to be close to God's marvelous creation is such a gift, and we never want to take it for granted.  Camp Lebanon was a meeting place with God this past summer, and we are so thankful for photos that help us capture these moments so they can live in our hearts forever!  
Thanks for taking this trip down memory lane with us!  This was just a collection of 20 photos we love from the summer, but there are SO. MANY. MORE. at the link below.  We hope you'll take some time to scroll through and find a few of your own favorites!  
Looking forward to another year!