Negaard Family Legacy Gift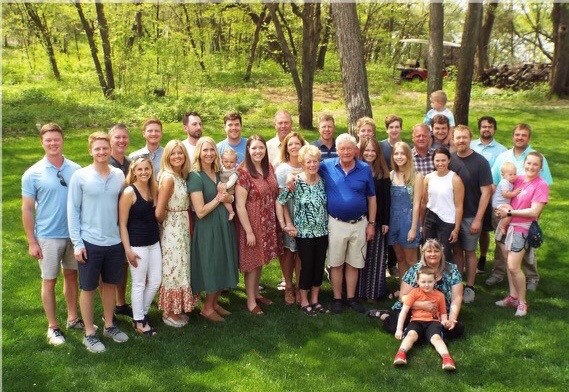 Dear Family,
It is no secret that we love Camp Lebanon. Family connections go all the way back to Camp's beginnings with Grandpa Archie. He joined a small team of partners from First Baptist – St. Cloud and other churches across Minnesota to secure the 46-acre property to grow a summer Bible Camp dedicated to reaching boys and girls with the Gospel. Check out the youth camp video.
As you know, our family has stayed involved in Camp through all these seventy-five years of ministry. We've both been invited to leadership roles at Camp and in recent years God has used us to actively encourage the Camp leadership in the purchase of the North 40 as well as the construction efforts of two major projects.
At this moment in our lives, we would like to present Camp Lebanon with a Family Legacy Gift to advance and expand the ministry through the gym campaign. Over the past several years, we have donated over $75,000 to "prime the pump."  Recently, we made a four-year pledge of $50,000 to help get the job done. Now it is our sincere hope that you, as a family, would collectively match this pledged amount. We would love to see all involved, including our wonderful grandchildren.
As passionate as we are about this moment, we fully understand that the decision to get involved in this effort is totally between you and Lord. Thank you for your part in the treasure of Camp memories that is ours!  And there's more to be made!
Hoya hoya!
— Roger & Gail
Negaard Family Legacy Goal: $100,000
Consider making a pledge to donate a certain amount over the next 2-4 years. You can choose the frequency of installments.
Camp set up a specific donation page. Make a one-time donation, set up a recurring donation, or complete your initial pledge installment payment.
If you'd prefer to mail a donation to Camp, please print this form and mail everything to the following address:
Camp Lebanon
ATTN: Gym Campaign – Negaard Family Legacy
1205 Acorn Road
Burtrum, MN 56318
Many donors find it possible in increase their giving potential by considering asset-based gifts. Stocks/bonds, retirement distribution, real estate, etc…