Sign up
to win fun prizes and help Camp raise money for the new gym!
It's no secret Camp loves kids!  Since its beginning in 1947, Camp has been specially designed to give kids and teens the time of their lives while helping them grow and develop physically, mentally, socially, and spiritually.  But did you know kids love Camp, too? Of course you did! Fun activities, crazy adventurers, new experiences, loving staff, and lifechanging moments has "kids" written all over it.  Now imagine if Camp had a multi-purpose gym!  Not only would it add weather-proof recreational space and new activities (like a climbing wall!), it would enhance worship experiences (like chapels & special gatherings). The new gym would also encourage deeper relationships (coffeeshop/hangout space). Best of all, it would unlock new opportunities for more kids to experience Camp.
Lord willing, we won't need to imagine for much longer about what a gym would be like! Camp has officially launched a campaign to build a multi-purpose gymnasium. The total cost will be around $2.5 million, so it's going to take help from a lot of friends to turn this dream into a reality. We know Camp makes a big impact on the lives of kids. So, what if kids made a big impact on Camp's biggest-ever project? Wouldn't it be cool if kids could help raise $25,000 for the new gym?
Why ask kids to help build the new gym?
For one thing, kids love Camp! Involving kids in the gym project will help them grow a healthy sense of ownership in their Camp. What's more, it's also a fun way to teach kids the joy of giving. The Bible teaches that God is a giver and something very special happens when people of any age share in His generosity.  Plus, it could be a fun summer project that doesn't involve kids being on a computer screen!
KIDS LOVE CAMP GOAL: Raise $25,000!
Raising $25,000 is a big goal! Is it even possible for a bunch of summer youth campers to come up with that much money? Knowing the kind of kids that come to Camp, we believe so! It's just going to require some fun and creative ideas. So, here are a few possible fundraising options to get you thinking! Your ideas might even work better. Go for it!
Every gift matters.  Two girls, Lucy & Emily, gave $10 and $2 from their piggy banks, respectively, to help build the gym (read the story). How amazing is that!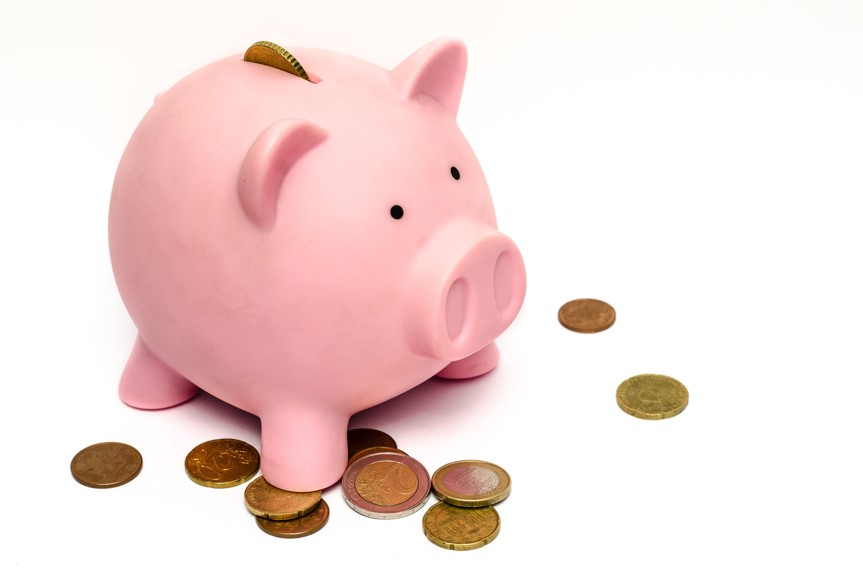 Your child picks the activity, the due date, the fundraising goal, and collects pledges/donations. Almost any idea works! (jumping in the lake, reading, running, wiffle ball, volunteering, music, etc…) Plus, Camp will even help them have their own fundraising webpage if they'd like! Full details in the FAQ section.
Kids win prizes for giving!
The best reason for giving is because it teaches us to be generous and become more like God, the ultimate Giver.  But winning prizes can be a fun bonus, too!  Check out what kids can win by reaching different giving levels.
* To qualify for rewards, all donations must be received by Camp on or before Tuesday, September 6th.
** Stickers, t-shirts, and other rewards will be distributed via mail!
Kids Love Camp T-Shirt
+ Fun Giveaway Prize Drawings (many winners!)
+ Camp Lebanon Sticker
Grand Prize Drawings
1 FREE week of youth camp in 2023 (2 winners) + $50 Canteen Cards (5 winners)
+ T-Shirt
+ Entry in the Fun Giveaway Drawing
+ Camp Lebanon Sticker
Ultimate Prize Drawing
(1 winner)
Have a Camp pontoon named after you with your first name painted on the side!)
+ Entry in Grand Prize Drawing
+ T-Shirt 
+ Entry in Fun Giveaway Drawing
+ Camp Lebanon Sticker
Fantastic! We are excited to have you be a part of the Kids Love Camp-A-Thon and want to make it as smooth as possible for you. Here are six steps to help you have success!
STEP 2: PICK YOUR "THING"
We listed a few options like doing a "Thing-A-Thon", completing chores, and running a lemonade stand. Which one are you going to pick for raising money?
Now it's time to set your fundraising goal! How much are you gonna aim to raise? Are you pumped about reaching the $100 shirt reward or are you hoping for a shot at having a pontoon named after you? ($1000+ level).
Now it's time start fundraising! Plan your lemonade stand day, go mow some lawns, or start asking friends & family members for pledges. Want to monitor your progress toward your fundraising goal & offer online donations for your friends & family? Create your own personal fundraising webpage!
Great job, you did it! Now it's time to send the money you raised to Camp and earn your reward.
PARENTS: You can either 1) print the Donation Form and mail it along with your kid's money to Camp or 2) make an online donation on your kid's behalf for the amount raised (make sure to mention their name in the notes).
The final step is very important! Take some time to write a thank you note to the friends & family who supported you. Tell them how much you were able to raise and tell them how much the kids at Camp have raised so far! (you'll get email updates)
What forms and handouts do I need to use?
Where can I learn more about the new gym project?
What are the age requirements?
Kids must be a minimum of 4 years old as of June 1, 2022 and a maximum age of being a 2022 high school graduate.
Can kids use multiple fundraising methods?
Absolutely! For example, a kid could certainly do a walk-a-thon, get paid for household chores, and sell cookies to raise money for Camp.
When are donations due and when will the prize drawings be held?
All donations are due at Camp by Tuesday, September 6th. The grand prize and ultimate grand drawings will be made as a part of the Fall Senior Day at Camp on September 13th.
Are donations tax deductible?
As an IRS recognized 501c3 non-profit organization, donations are tax deductible as allowable by law. All donations made online will be receipted via email. Camp will also issue emailed receipts for cash gifts over $25 if email address information is provided on the Pledge / Donor Form.
Do you have to do a "Thing-A-Thon" in order to create your own personal fundraising webpage?
Nope. You are more than welcome to create your own personal fundraising webpage for whatever way you decide to raise money for the Camp-A-Thon. It could be a fun way for kids to enter cash received/pledged from parents for doing chores or to enter money received from a day's lemonade stand, to see how close they are to reaching their goal.
Do kids earn any rewards for this fundraiser?
Yes! If kids raise $100 or more, they will get a T-Shirt, Giveaway Drawing Entry, and a cool Camp Lebanon sticker! If they raise $250 or more, they'll also have a chance to win a FREE week at Camp! If they raise $1,000 or more, they could win the right to have one of the Camp pontoons named after them!
I still have more questions, who should I talk to?
PERSONAL FUNDRAISING WEBPAGE
Would you like to have your own fundraising webpage with your story, photo, goal, and information?  It's a great tool to use for sharing your Thing-A-Thon with more friends & family, to collect online donations, and see your total fundraising progress toward your goal.  Plus, you could even use creatively for fundraising ideas beside Thing-A-Thons, too. Just follow the instructions below!
6. Share your page & make online donations
Your "Public Page" is what you can share with friends & family. Copy the URL at the top of the page or use the social media share buttons to invite more people to help you reach your goal. People can easily donate online on this page and you do not need to add them to your Pledge Form.
Want to share your fundraising site with people you're talking with in person? Create a QR code!  It's easy. 1) Go here, 2) Paste your Public Page URL, 3) Create QR Code, and 4) Download it to your computer.  Print it and have people scan it with their phone.
Would you rather have a shorter URL to share with people in person instead of a QR code? Not a problem. Go to www.bitly.com, past your URL (as seen in the photo below), and click "Shorten." Copy the new, shorter URL and you're set to go!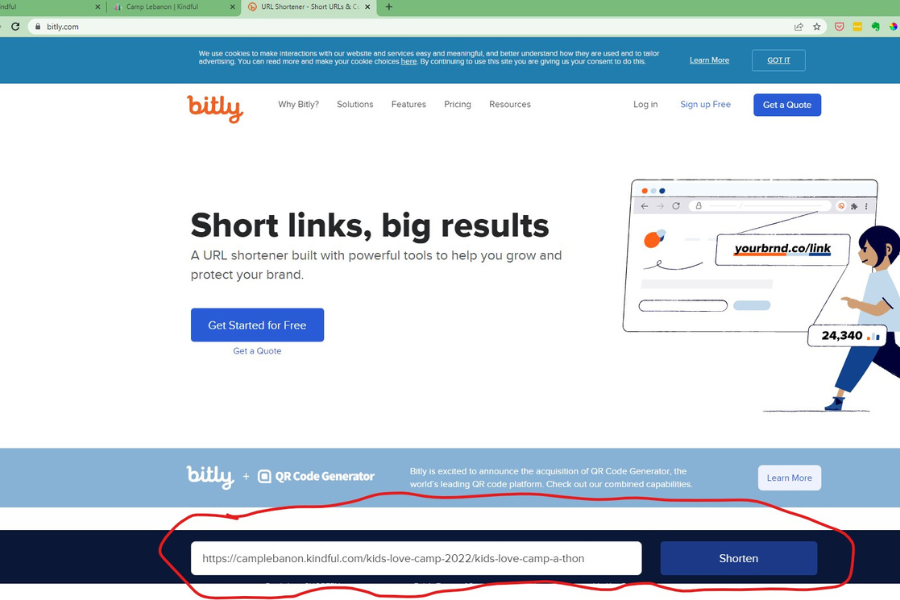 Can online donors be anonymous?
Yep! They can choose to be anonymous while making the online donation.
How do I add pledges or cash/check donations show it applies to the total raised?
1. Login in to your Kindful account.
2. Click "Kids Love Camp-A-Thon" under Causes
3. Click "Enter Pledge" at the top of the page. Update & save. Enter Details, chose to show name or not, and Create.