The grand finale of Summer 2021 – Labor Day Weekend Family Camp – has come to an end!  We had an amazing weekend with so many families who came out to celebrate this summer.  Campers arrived on Friday evening.  Some participated in a hot dog roast on the Hub for dinner, followed by a Welcome Chapel and a relaxed evening of reconnecting with one another and making new friends.  
The next morning, some family campers rose bright and early to do the Polar Dip!  Cedar Lake has gotten pretty chilly in the past few weeks, so the campers who are willing to jump in first thing in the morning are definitely some of the bravest!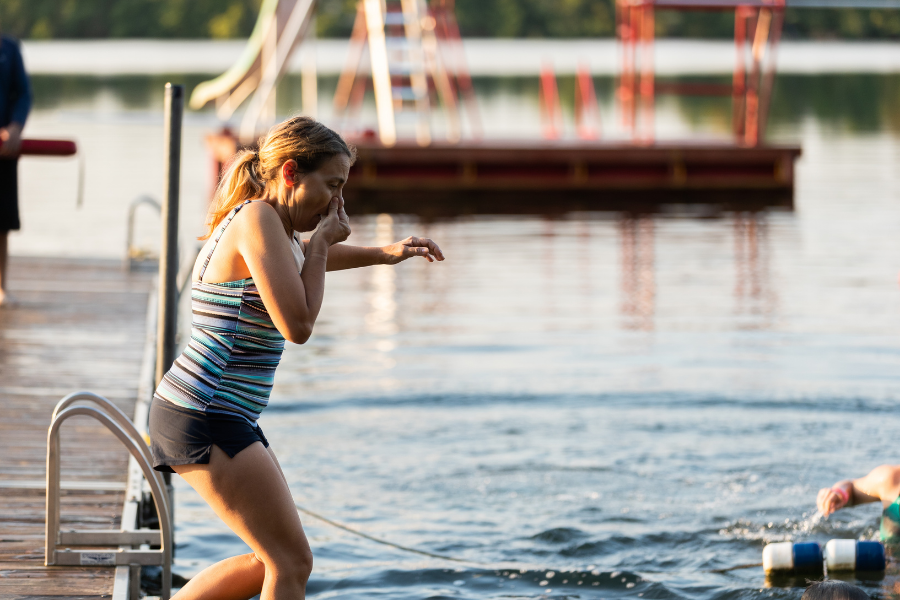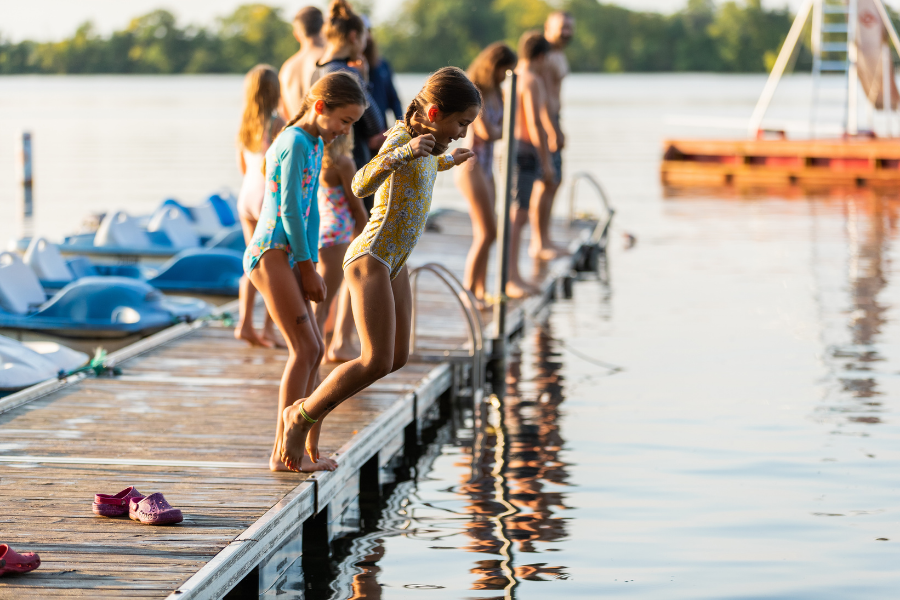 Our first day of Family Camp was so much fun.  Campers enjoyed Morning Chapel (bring on all of the actions songs), Free Time activities like archery and BB guns, crafts, and swimming, and some soccer up on the North 40 field.  Family Camp is all about Free Time – time to nap, time to play, time to swim, time to read, time to hike, time to do whatever you want!  Whether it was playing a game of Wiffleball or attempting to sail, family campers have the whole day to choose their own adventure.
Some of the special events this weekend included Boat Races, where family campers climb into canoes and kayaks and race across the whole lake, a Carpetball Tournament, with families competing against other families for the title of Grand Carpetball Champions, and a big game of Dodgeball out on the sand volleyball courts on the last night.  
Another highlight of the weekend was Chapels out in the Big Tent, with our speaker for the weekend, Nate Miller!  Nate told campers the story of Jonah this weekend, and directed them back to our Mighty Savior, whose compassion is unbreakable.  
It all culminates on the last night, with a beautiful sunset hike out to Bass Point for the end-of-the-week Campfire!  Campers sang silly songs, played a final round of Gorilla Gets the Man, went on a Lion Hunt, and shouted with their loudest voices in the "PRAISE GOD" yell, before some yummy s'mores and the hike back to Main Site.  
This morning, we said goodbye to the families who came this weekend.  We had a final Morning Chapel, gave out prizes, and said a big "THANK YOU, GOD, FOR A REALLY GREAT WEEKEND" before a yummy brunch and a relaxed departure.  Thanks so much for spending the weekend with us, at this grand finale of Summer 2021!  See you next year!
Enjoy photos from your camper's week at the link below! Perfect to download, share, and print!