It's been another great day of Camp! The energy that these campers bring is terrific. We have had such a great time learning about our Risen Lord and just having fun! Here's a recap starting at yesterday afternoon:
Free time consisted of lots of swimming, snacks and smiles! The day started warming up just in time for swimming and grabbing a Dilly Bar or two from the canteen.  There were some epic jumps off the diving board, and lots of wrestling on the water mats.
All to soon, it was time for flag lowering and dinner. As we ate, cabins were planning their strategy for the volleyball tournament! They quickly cleaned up their tables and raced to their cabins to get their face paint. We met at the amphitheater to go over the rules, and then we traveled to the North 40 for the games. We had two double elimination brackets (girls and boys) so cabins each got to play at least two games. Our champions for this week were the girls in Denmark cabin and the boys in Egypt! Congrats guys!!!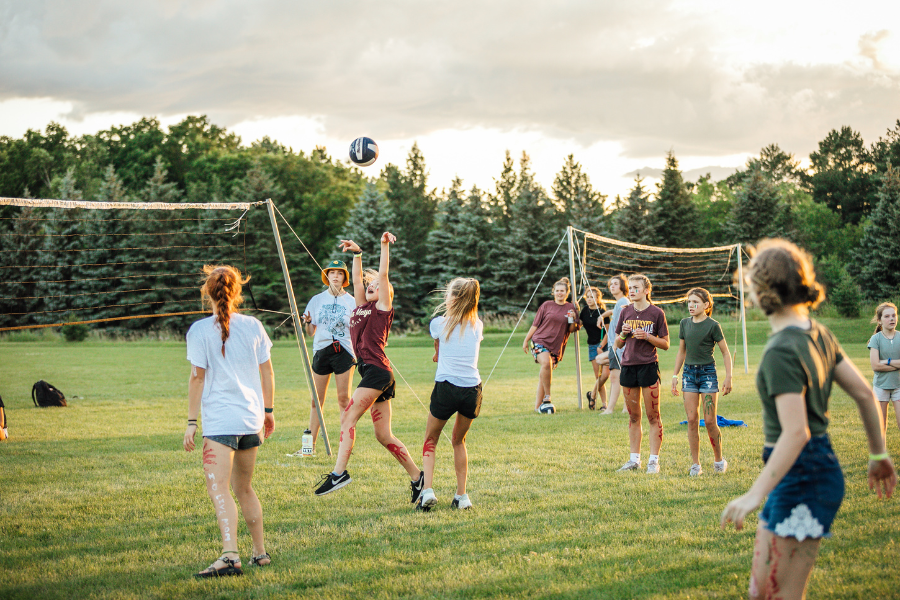 After the tournament, we headed back to main site for chapel. As we began to sing, our worship leader, Seth, encouraged us to meditate on the words of the songs. We sang Only King Forever by Elevation Worship, and Yes I Will by Vertical Worship. As campers raised their hands in praise, it was such a good reminder of how good and sovereign our Lord is. He brought each one of these Junior Highers here for a reason, and they each have a way that they can be touched by God's always loving, never failing heart. Pray that tonight their hearts will be open and receptive to the words Drew has for them while teaching them about our Risen Lord and how he touches hearts and changes lives. 
Talk to your camper about the worship on Tuesday night. What was their favorite song we sang? Can they remember any of the lyrics? What was one that stuck out to them?
This morning started off like every other with polar dip and flag raising. Today, India cabin raised the flag for us. We did our morning movement and our memory verse. We learned the last part of our memory verse, so now they can say it to their counselors to earn cabin points and get their name in the pie bucket for a chance to pie a staff member at the end of the week!
Enjoy photos from your camper's week at the link below! Perfect to download, share, and print!