What a fun group of campers we have this week. It's only day two, but we are having a blast!
Yesterday afternoon finished out with clinics and seminars, and free time. Clinics and seminars alternate every day. For yesterdays options, we had a wide variety to choose from. Everything from soccer to environmental stewardship was covered. Today, campers have the opportunity to choose from a different set of topics.
During free time, campers had so much fun!! One highlight was zipline. If they are signed up, campers get to head up the hill with their cabin to the Screaming Eagle Zipline. Once they get harnessed, they got to go down the zipline twice! 
Last night's game was Campdemic. The goal was to find the two "doctors" hidden around camp so you can become immune to being tagged by other players. The night cooled off just the right amount for an exciting and enjoyable game experience!
After our game was evening chapel. Gathering under the tent with the glowing lights is always such an amazing experience here at camp. It draws us closer to each other and closer to our loving Savior who gave his life so that we may live.
Time for Polar dip!! There were so many campers at the polar dip this morning. Even some counselors came along. Some times people jumped in small groups, but other times whole cabins jumped in together! 
After breakfast, campers went back to their cabins to clean up for cabin inspections later this afternoon. Then they headed out to find a quiet spot for TAG Time. TAG stands for time alone with God. This is a break in the schedule for campers to be in the Lord's presence and let his renewing spirit wash over them. Some campers choose to doo prayer walks, some choose to read their bibles, and some choose to read out of a devotional book. If they aren't sure what to do, counselors have special TAG time sheets that lead the campers through different bible passages, and help them apply it to their life.
Talk to your camper about TAG Time.  How did they choose to connect with God during that time? What is a lesson they learned during that set aside time? If they read from the bible, can they explain what they read to you in their own words?
Morning chapel is next on the docket. Today we had split chapel. That means girls have the chance to attend woman's chapel, and the boys have the chance to attend men's chapel. Today, the boys got to hear from our speaker, Drew, and the girls had a panel with some of the female staff.
After chapel is cabin time. Cabins get to hang out as a group and do different activities around camp, whether that be a game, or a Q&A session with their counselor.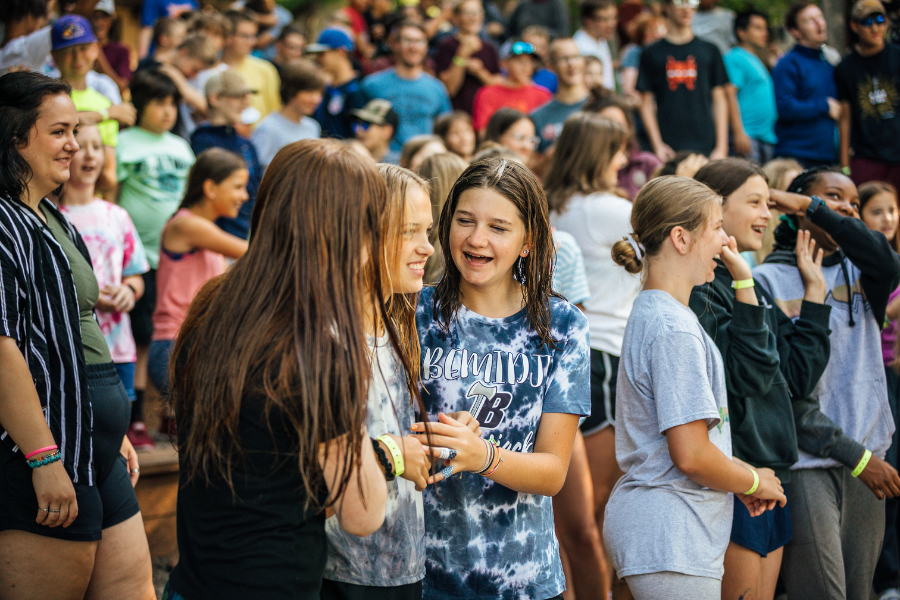 Our next activity is morning free time, and then we have lunch. Campers will be eating a nice big lunch to get all the energy we need for today! We have lots of fun acticities planned for tonight, and we can't wait to share!
Enjoy photos from your camper's week at the link below! Perfect to download, share, and print!