What a fun group of Super Kids we have here at camp this week! There has been nothing but laughter, excitement, and energy from them since they got here! 
Yesterday, we survived the bright sun and humidity with the afternoon game, "Icky Sticky"! What better way to solidify friendships and cool down than trying to protect your counselor from water, while also trying to soak other counselors?!
Ask your camper about the game yesterday- "Icky Sticky"! Did they keep their counselor dry? Or did they successfully soak other counselors? What was the best part?!
After all the campers got their fill of soaking the counselors (and each other!), it was finally free time! Yesterday's highlight was laser tag! After learning all the rules, campers got to begin the game! Once they heard, "Go, Go Go!" they could be found peaking out from behind a tree, or seeking safety from other taggers by a cabin!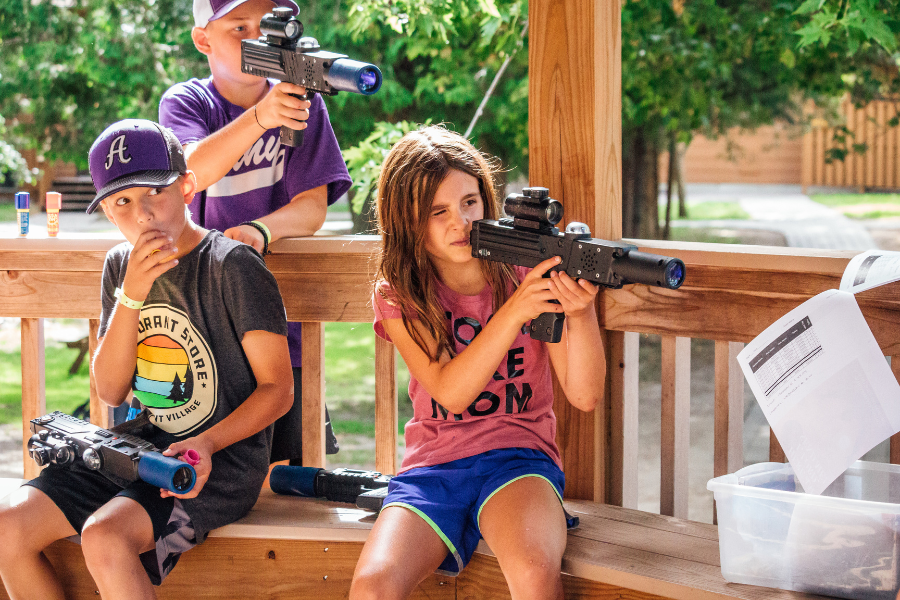 At 5:15, the bell rang and we all gathered at the Steps of Faith for flag lowering. Yesterday, Russia cabin volunteered to do the honors for us! Once we had all eaten our dinner of pizza, salad, and cheesecake, campers got changed into light or dark shirts for Capture the Flag! It was the perfect game to get all of our energy out before convening back at the tent for Chapel. 
But what's Chapel without action songs and a little bit of worship?! Once we all sang our hearts out, our speaker Zach, spoke on the story of Lazarus. Even though Jesus had the power to save Lazarus from death, He chose not to. Why? I think it's a question we all find ourselves asking. Zach explained that God's timing is better than ours, even if it's not what we want, or think is best. We just have to trust that God's plans are better than ours! After chapel, it was time for bed! The campers' cheers for bedtime was a testament to the full day we have had! 
This beautiful Tuesday morning started with campers who love to jump in the lake first thing in the morning – Polar Dip! 
After drying off and warming up, it's time for flag raising, morning movement, and breakfast! Next, campers and counselors will head to the tent for morning chapel, and then it will be time for skillz, and cabin adventures!
Enjoy photos from your camper's week at the link below! Perfect to download, share, and print!