An evening that was small in size, but big in laughs! That was our Winter Chill Retreat. This year, to say thank you to the 2021 and 2022 summer staff teams for all their hard work, they were invited to experience the delight of each other's company- without the pressures of summer job duties.
To kick off their time together, they had pizza in the dining hall. If you've never used a ladle to scoop croutons into a salad- these young men and women would highly recommend it. Dinner was followed by a prayer and worship session. It was so sweet to hear their heavenly voices again; we didn't even need to plug any instruments or microphones into the sound system.
The rest of the evening was theirs, and they ran with it! Using masking tape on carpet, they made a court and challenged one another to indoor 4-square. The line to play wrapped around half the room. A wild, slappy card game in the dining hall left them all with their sides aching from the laughter. A little red robot dog named "Nubs" entertained them endlessly with his silly commands and squeaky sounds. Then, to cap off the crazy night, a small group went up to Hazzard Hill and had a blast snow-tubing in the twinkly lights . . . at 3:30 in the morning.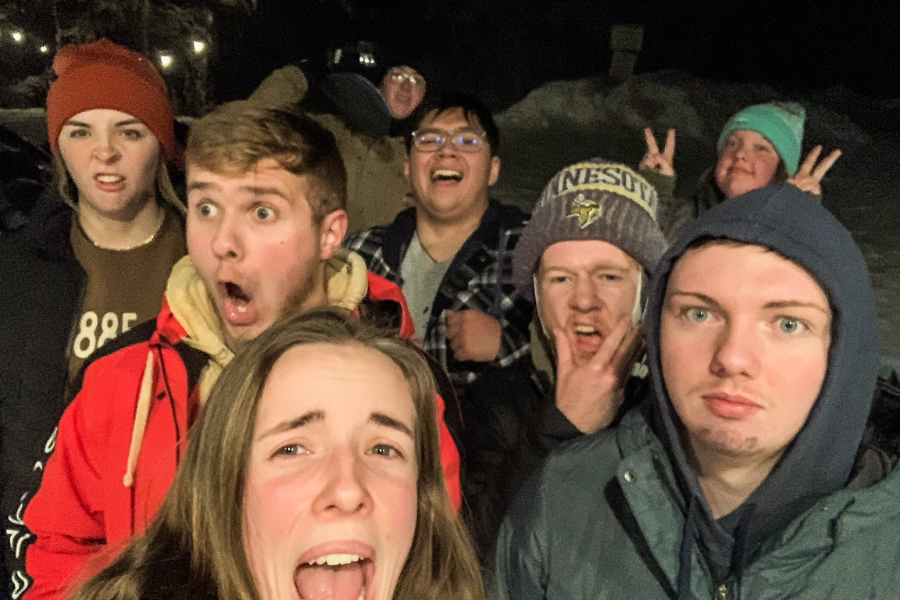 And finally, after a (short) night's sleep, they had breakfast together on New Year's Eve- and serenated Chef Jim in honor of his last day as Food Service Director. We were sad to see them go home, but we are so grateful to have seen them again, and to cultivate these relationships beyond the summer.
We can't wait to see what God has in store for these faith-led, ministry-hungry young adults!